---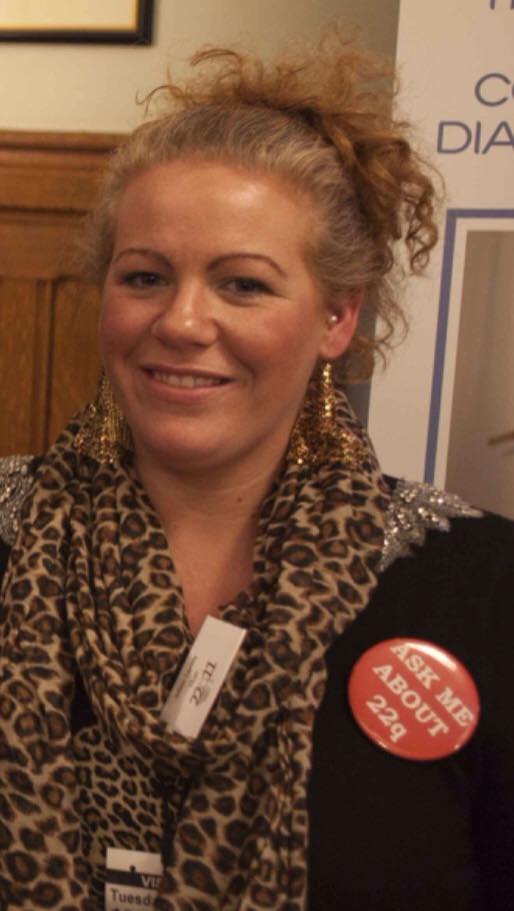 Lucia
My name is Gillian Cassidy, I live in Bangor, N.I and I am the founder of 22q11 Northern Ireland.
In May 2009 I gave birth to our firstborn, a daughter we named Lucia. Eleven days late via emergency c/section, she weighed in at 6lbs 4oz. She was simply amazing and we could not keep our eyes off her!
Lucia was followed by a sister Minnie (2011) and a brother Otis (2012).
After a few days we left the hospital. Lucia was slightly yellow, and had a rash. She weighed 5lbs 12oz. The medical staff were not too worried that she was struggling to feed, and as she was our first child, we had no idea anything was amiss.
As she developed Lucia rarely smiled or laughed and made very little noise in general, even her cry was just a little squeak! Lucia rarely made eye contact with us, and had problems passing solids. She stayed very small, and continued to eat small amounts, she was difficult to wean and would choke on solid foods.
With Lucia there was no obvious (to us) urgent life threatening medical issues and yet though these individual issues were known to those medically involved in her life, nothing was ever said that might make us think she was anything other than 'typical'.
Before Lucia turned two I took her to our health visitor and told them I had concerns about her speech and language development. She was referred to a team of multi-disciplinary doctors and specialists for review and six months later we had our first appointment. Lucia was sent for a video x-ray of her throat, she had Speech Therapy and Occupational Therapy appointments arranged for assessment. Lucia's video x-ray showed she had a slow transition of food through her esophagus and so she had difficulty in swallowing food. I felt a dissociated concern that she was now 2.5 years old and we were only finding this out.
Early Symptoms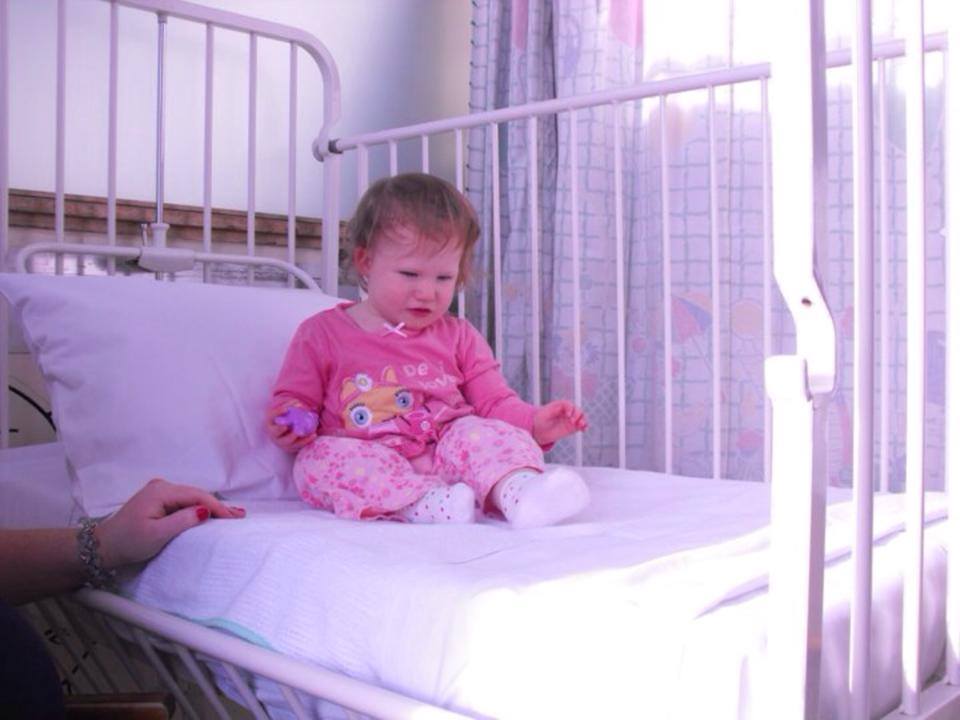 Lucia had an operation on her tummy for an umbilical hernia repair. She constantly had viral infections and colds and coughs and her speech and language continued to be significantly delayed.
As a routine check her bloods were taken a year later. I noticed on the blood consent form the term '22q' and did my initial research as soon as I came home. I was overcome when I discovered two girls, who lived on the other side of the world, who looked exactly like my daughter. I could not wrap my head around this fact. The more I researched the more I knew in my gut that the results would come back with a diagnosis. All of Lucia's little issues, not being able to get her walking shoes due to her feet being too small, her see-through skin, her constant viral infections, her size, her wonderful mane of hair and so many other things, fell into an answer.
In January 2013, a few months short of her 4th birthday Anders and I were told that Lucia had 22q11.2 Deletion Syndrome.
Diagnosis
Lucia's diagnosis started the ball rolling on more specific tests. Kidney ultra sound confirmed typical kidneys but an enlarged bladder. Heart tests cleared her of any 22q related heart defects.
Lucia always had a "line" down the centre of her head, it had been there since birth and was just something we took as part of Lucia, but when we started questioning everything we discovered it was a metopic ridge and that she had indicators of a condition called metopic craniosyostosis with trigonocephaly. The feeling of having to self-diagnose Lucia was reared again and we felt aggrieved and devastated that we needed to know more about 22q and the possible side effects than her own doctors! She was officially diagnosed with this in August 2013 at the John Radcliffe Hospital in Oxford.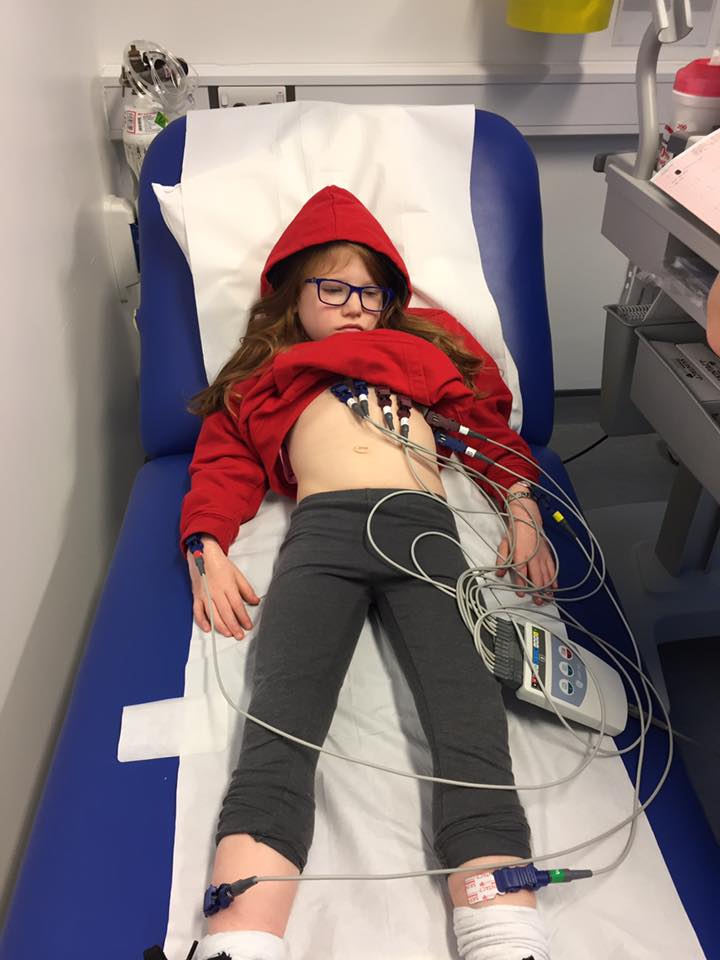 Lucia has ASD and was officially diagnosed with autism in October 2014. She continues to have frequent viral infections although her immune system has not yet been tested. She was diagnosed with Kyphosis (curve in her spine) the curve is being monitored every 6 months. Lucia has Hypotonia - low muscle tone which effects swallowing, walking, toileting and talking, that we know off. Lucia has sever speech and language delays. She is under review at the cleft palate clinic. She has little folded ears which are another subtle hint at her genetic structure. This list is not exhaustive and continues to grow seemingly by the month but I know that through this it might give others a sense of understanding or enlightenment.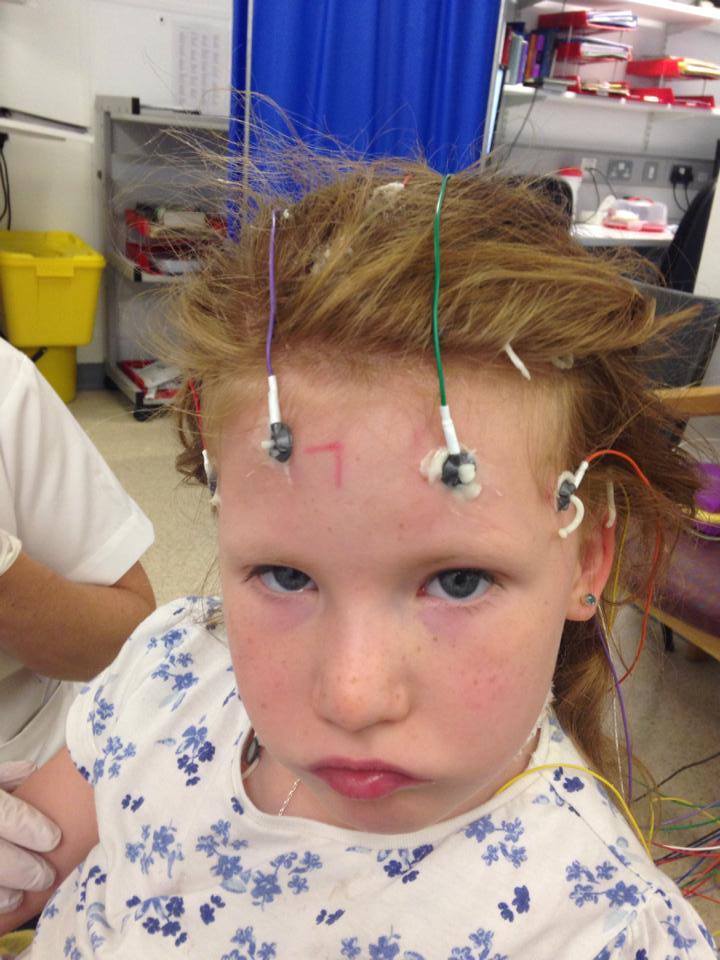 In June 2013, we discovered Lucia's 22Q was "de novo". It was not passed down from me or her dad. I knew I would have carried guilt had it not been, and at the same time I despaired that her 22Q was seemingly from nowhere.
Lucia is a wonderfully affectionate little girl, everyone who meets her can see she is determined, self-possessed and lovable on so many levels. Although she is diagnostically at the start of her 22Q journey, we are blessed to have a form of knowledge and understanding as to why she is developing the way she is. We don't live in a country where genetic understanding is in any way at the forefront of discovery but we do have the wider circle of social media and websites like this one which help give insights and understanding we could never have hoped for a few decades ago.
Lucia's story is going to be much more complex both physically and emotionally. I hope that she can find comfort from God when she needs to and emotional support from other 22q children and families who will share their stories with her if she chooses.
The Syndrome
22q is the second most common genetic syndrome after Down's syndrome.
Pieces of missing genetic material on the 22nd chromosome mean that an individual with this diagnosis can have any number of issues from a list of close to 200 symptoms from minor to fatal.
Symptoms can appear from conception and continue to develop through an entire lifetime. They range from congenital heart defects, cleft palate issues, seizures, spinal deformities, speech, language delay, weak or no immune systems to executive function and Autistic Spectrum Disorders and mental health disorders including anxiety, schizophrenia and psychosis. Like Down's those with 22q resemble each other due to the nature of their facial features.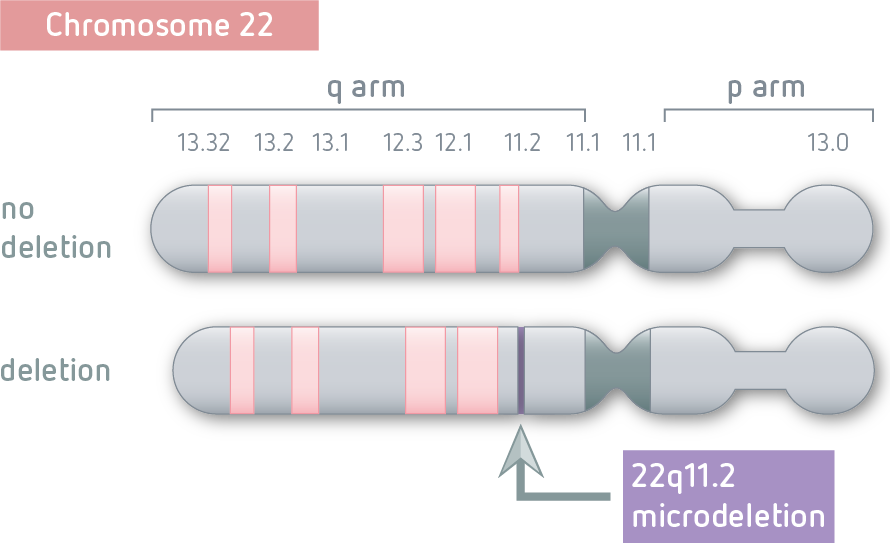 The 22q11 Northern Ireland Charity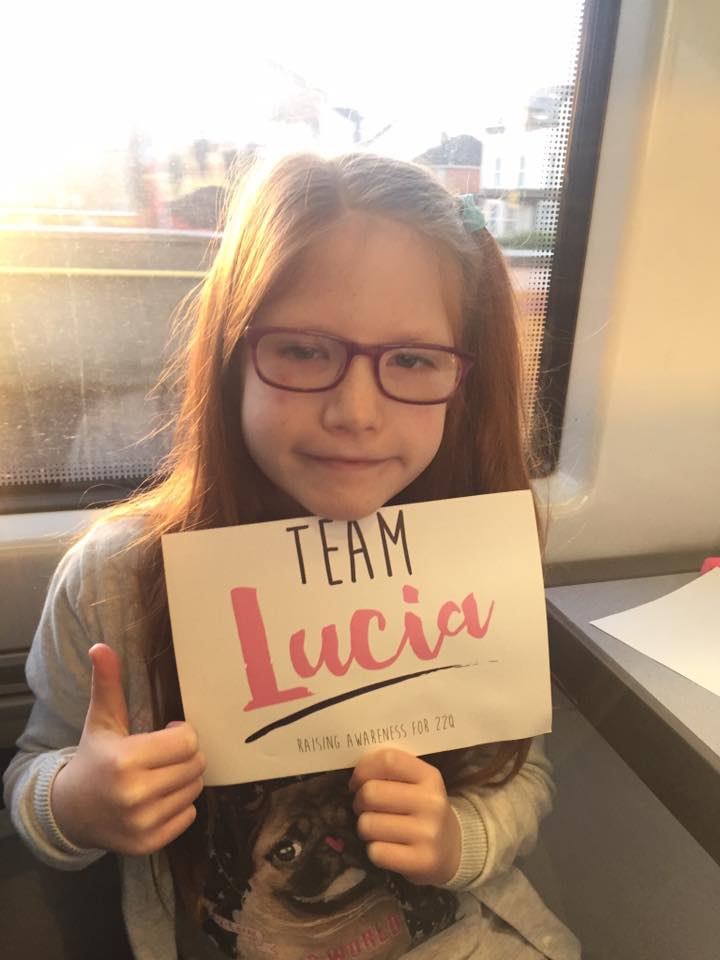 In an effort to raise awareness, my husband Anders, my mum Lorraine Stitt and myself set up the 22q11 NI charity in September 2013 with help and information from 22q11 Ireland and Max Appeal. 22q NI has the following aims:
Seek out information about 22q through conferences, relevant lectures and the World Wide Web in order to provide advocacy through dissemination of information to the public and clinicians in Northern Ireland on symptoms and issues via lectures, articles, conferences, social media and information sharing via a dedicated website.
Support and encourage people residing in Northern Ireland who are affected by chromosome abnormalities including but not limited to 22q11.2 deletion, 22q11.2 duplication, Ring 22, 22q13 deletion, 22q13 duplication, mosaic 22q deletion, mosaic 22q duplication, 22q distal deletion and Trisomy 22 through the provision of recreation or other leisure time occupation for individuals, family and friends of those diagnosed with the objective of improving their quality of life.
Seek out and share information on resources, peer support, education, benefits, health and social services information and other relevant tools to aid those families.
Raise the profile of 22q with local elected MPs MLA's, clinicians, and all those involved in the lives of those living with 22q in Northern Ireland.
In 2014 we became involved with the Northern Ireland Rare Disease Partnership and our network of contacts became so significant that at the tailend of 2014 we had a sit-down meeting with the then Health Minister Jim Wells where we discussed the possibility of creating a 22q clinic in Northern Ireland. We hoped that this clinic would combine the advocacy, support and care that all those diagnosed with 22q deserve.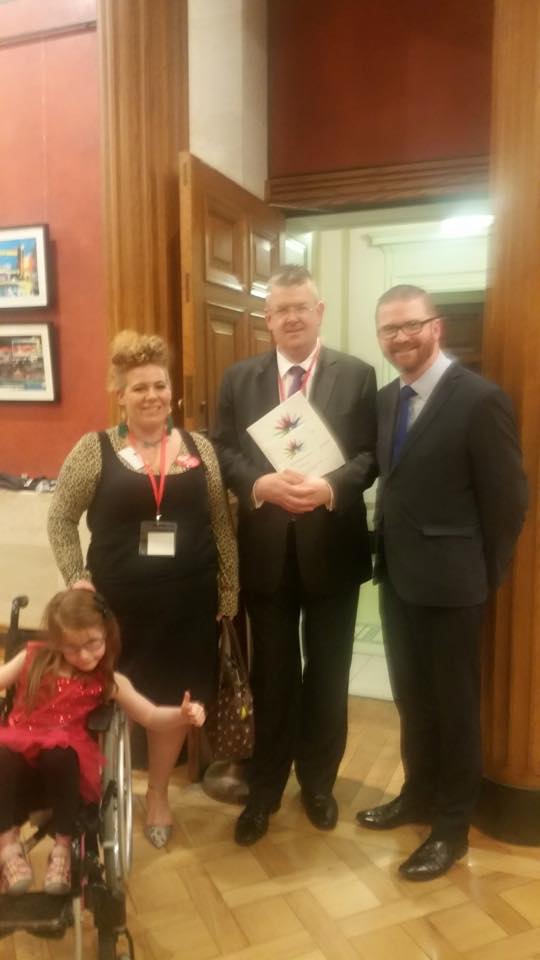 In 2015 we finally completed our registration with the NI Charity Commission. Gillian also started to regularly attend a 22q-advocate APPG (All Party Parliamentary Group) in Westminster.
By 2016, after much lobbying and submission of a detailed plan, the first dedicated 22q clinic in the UK or Ireland opened in Wing C in the Belfast City Hospital. Once per month Dr Tabib Dabir (Clinical Geneticist, City Hospital, Belfast), Dr Janet McPherson (Psychiatrist) and Gillian Cassidy (Patient Advocate Coordinator) provide holistic care and support for those affected by 22q. The clinic continues to be hailed as a major advance in 22q patient care and has been cited as a model to follow in the rest of the UK and Ireland.
22q at the Zoo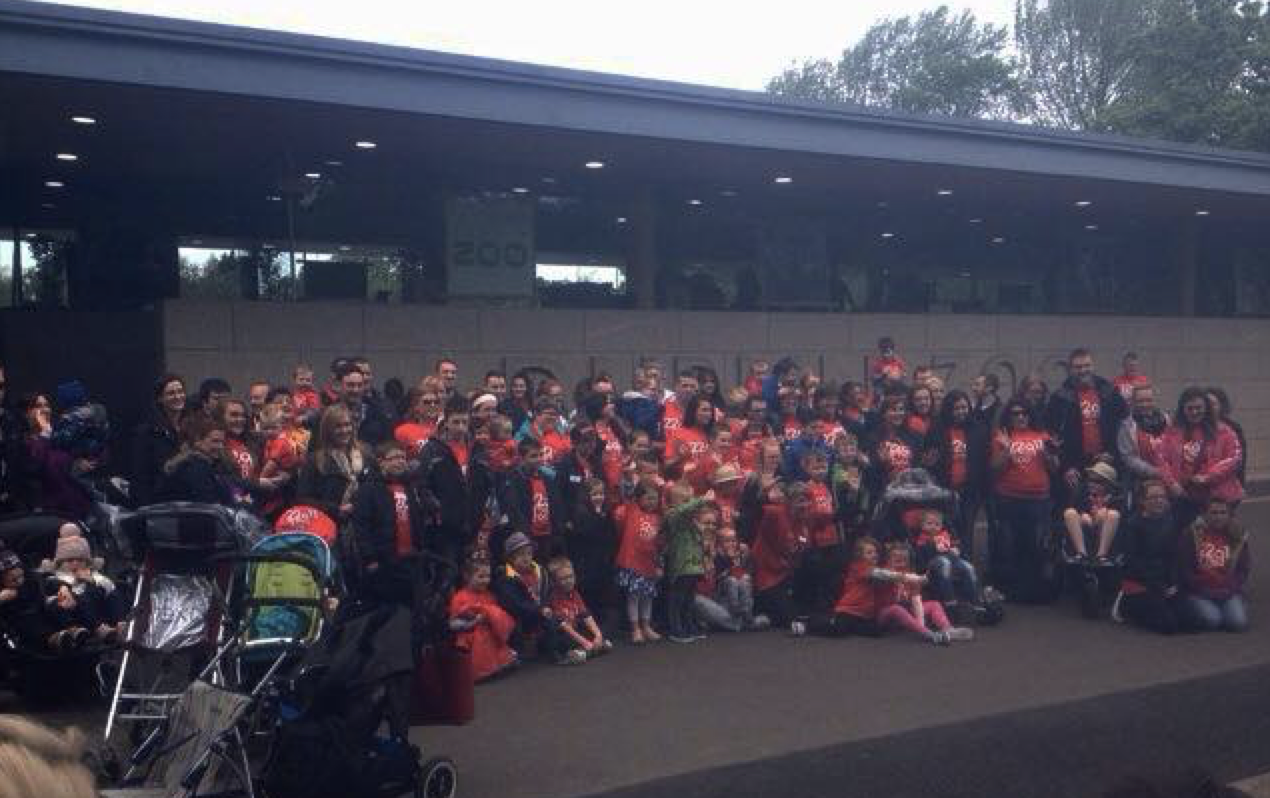 Each year we host '22q at the Zoo', where 22q families can meet up and get to know each other.
The event takes place at either Belfast Zoo or Dublin Zoo, around 18th May (coincidentally Lucia's birthday!).
Raising Awareness
Our Facebook page follows Lucia's development so that people can be aware of the condition and hopefully in turn others can be diagnosed because of the knowledge we share.